This free special report will help you get your Florida property insurance claim PAID! Download this free special report here and now.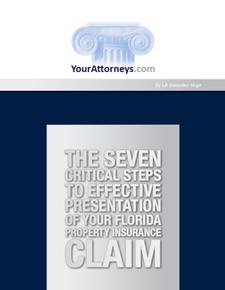 The purpose of this Special Report is to assist the Florida consumer faced with the often daunting task of having to present a property insurance claim to his or her insurance company in the heels of an unexpected, and often, catastrophic event on how to most effectively present his or her property insurance claim. This report will focus on the actual claim presentation, including discussion of:
Mitigation of damages;

Notifying the insurance company of the loss;

Evidence Preservation;

Public adjuster involvement;

Documenting the claim;

Giving statements to the insurance company;

Claim denial.
Attorney J.P. Gonzalez-Sirgo and the law firm that he founded help insurance policyholders recover what they are due on their insurance claims. J.P. has recovered millions of dollars on behalf of his clients.
Call us right now for a Free Consultation and Case Evaluation at (305) 461-1095 or Toll Free at 1-(866)-71-CLAIM or fill out the Quick Contact Form to the right or click here and a member of our firm will contact you promptly.