When a hurricane strikes U.S. soil, the devastation and loss of life can be enormous. Unfortunately, as if suffering through a hurricane and property loss is not enough, another storm is brewing in the atmosphere, only this time it is manmade: the delay, underpayment, or denial of your valid hurricane or windstorm insurance claim by your insurance company.
The following is a list of Hurricanes and Major Storms to have hit South Florida since 1992: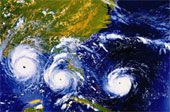 Hurricane Andrew, August 24, 1992, Category 5
This hurricane hit South Dade in Miami, Florida. It was the most costly natural disaster to hit a United States city in modern times. It caused $30 billion in damage. Andrew's death toll in the U.S. stands at 23.
Tropical Storm Mitch, November 5, 1998
Tropical Storm Mitch hit South Florida and caused $40 Million in damage. Two people died in the Florida Keys.
Hurricane Charley, August 13, 2004, Category 4
Hurricane Charley hit South Florida, specifically Captiva Island, Punta Gorda and Port Charlotte. Total estimated damage is near $15 billion, making Charley the second costliest hurricane in U.S. history. Charley was responsible for 10 deaths in the U.S.
Hurricane Frances, September 5, 2004, Category 2
Hurricane Frances landed on Stuart, Florida and caused approximately $8.9 billion in damages, 90% of it in Florida. Death toll as a result of Frances in the U.S. is 7.
Hurricane Katrina, August 25, 2005, Category 5
Hurricane Katrina's estimated damages are $75 billion and it is the costliest U.S. hurricane on record. Katrina is responsible for approximately 1200 reported deaths, including about 1000 in Louisiana, Mississippi and Alabama. Miami Dade and Broward counties suffered wind and water damage.
Hurricane Wilma, October 24, 2005, Category 3
Hurricane Wilma caused an estimated $16.8 billion in damages. Wilma is credited with 22 deaths, 5 which were in South Florida.
The above list is not all inclusive. There have been numerous other non-major storms to have hit South Florida causing wind, water, and flood damage in which the Law Firm of J.P. Gonzalez-Sirgo, P.A. has represented policyholders with their claims.
Please visit our Library and Resources page to obtain important information related to hurricane preparation for before, during, and after the storm.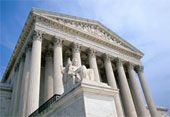 We use our experience and the experience of our selected consultants to analyze your hurricane or windstorm damages and the available coverage under your policy and other issues such as:
Denied Claims

Underpaid Claims

Lowballed Claims

Claims Delays

Rejected Claims

Insurance Coverage Disputes

Requests for Examinations Under Oath

Requests for Sworn Statements

Requests for Recorded Statements

Issues Related to Actual Cash Value

Issues Related to Replacement Cost Value

Florida's Valued Policy Law

Recovery of Additional Living Expenses

Recovery for Theft or Vandalism Damage

Costs of Debris Removal Issues

Contents or Personal Property Claims Issues

Law and Ordinance Issues

Fraud Accusations

Total Loss or Constructive Total Loss Issues

Appraisal or Appraiser Issues

Umpire Issues

Supplemental Claims

Litigation and Trial

Bad Faith
In Case Of Hurricane Damage To Your Property:
Mitigate, Document, Notify, and then CALL US Immediately
The moment that you notice wind and water damage to your home as a result of a hurricane, do as follows:
Mitigate
Use your best efforts to make temporary repairs so that the condition doesn't get worse. This will prevent the insurance company from later claiming that your hurricane damages are the result of your failure to mitigate your damages. For example, if you have a roof leak, hire a roofer to put a tarp over the leak area. Try not to pay the repairman in cash for the temporary repairs and if you do have to pay in cash, get a receipt and his name and contact information. Submit the temporary repair receipts to your insurance company for payment.
Document, Document, and Document
Take pictures of all affected areas. Take video, if you can, of all affected areas. Hold on to any receipts and estimates for repairs. Get the contact information for any contractors that come to your property to give you estimates. Do not throw out any correspondence or documents that are sent to you by your insurance company. If you are mailing anything to your insurance company do it by certified mail, return receipt requested, and make copies of whatever you are sending for your records. Keep a journal of all your communications with your insurance company. If you become aware of any witnesses that have knowledge of any aspect of your claim, record their name and contact information. Don't throw out any of the hurricane damaged items in your house.
Notify
Put your insurance company on notice of the hurricane insurance claim. Call your insurance company and let them know what happened. Get the name of the insurance company adjuster assigned to your claim, his or her contact information, and the claim number.
Contact Us
Let us use our experience to help you. Even if your hurricane insurance claim has been closed or even if you unknowingly accepted the small check they gave you, you may still be able to pursue your claim - you may be able to reopen an unfair claim years after the hurricane loss.
You can reach Miami Insurance Claims Lawyer J.P. Gonzalez-Sirgo by dialing his direct number at (786) 272-5841, calling the main office at (305) 461-1095, or Toll Free at 1 (866) 71-CLAIM or email Attorney Gonzalez-Sirgo directly at[email protected].